Purchasing -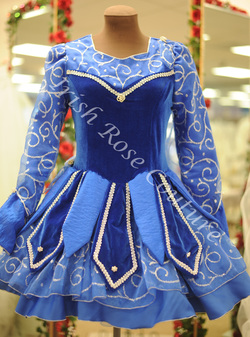 When you find a dress on our site you would like to purchase, e-mail: Lynanne@Irishrosecouture.net. Please ask any questions before purchasing as all sales are final. Most dresses have soft skirts, but are full enough to "dance well". If you prefer, we can add a stiff panel underneath for a minimal price. Although our dresses tend to be very sparkley, we can also add additional rhinestones at your request.
We also offer some dresses that are non-glitz, Mid-America compliant.
Dresses are shipped when payment has cleared.
We prefer payment through PayPal. Please contact us for other options.
We only charge actual shipping charges from Poulsbo, Washington, USA.
Every dress includes a cape, headband, kickpants, a free gift.
All sales are final, thank you.

Layaway - Did you find the dress you want, but your bank account is low right now? Any dress may be held for a $100 non-refundable deposit. Within 14 days you must make a payment on the dress, pay off the dress, or risk forfeiture of your deposit and dress. The price of the dress (minus the $100 deposit) can be split into between 2 and 6 monthly payments. There are no fees or interest charged. Your dress will be shipped once your final payment has cleared. Failure to make payments as agreed will result in forfeiture of the dress and any previous payments.
---
Special orders -

Step 1 - e-mail Lynanne@irishrosecourture.net to inquire about production times, and what you have in mind.
Step 2 - Pay a non-refundable deposit of $200 to save your spot on the calendar
Step 3 - When it is close to time to start your dress you will be e-mailed with any questions. If necessary you will be e-mailed a sketch of the proposed design and changes will be discussed.
Step 4 - We make your dress!
Step 5 - Once construction is completed, you will be sent a photo of your dress.
Step 6 - Once final payment is received, your dress will be shipped. (Failure to make final payment will result in forfeiture of your dress and any previous payments.)
Typical custom solo dresses are $449-$700. Please contact us for beginner dress or school dress prices.
Lynanne@Irishrosecouture.net
---